New Progress In Legalized Sports Betting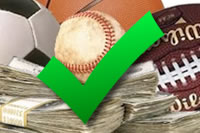 The American Gaming Association have announced a new policy that could help with the legalization of regulated sports gambling in the United States. This process has been going on for years now and while PASPA only allows sports betting in Nevada, the AGA is working their hardest to change that fact. In fact, the board of directors for the AGA have put together an outline of what their approach will be in this fight to legalize sports betting and have agreed to a list of public policy principles that read as follows:
Defer to states regarding the desirability of regulating sports betting as all forms of casino wagering;
Ensure the integrity of sports betting and sports through state licensing and regulation;
Make all sports betting businesses transparent to law enforcement;
Ensure a tax regime does not undermine regulated sports betting operations' ability to compete against illegal offshore operators.
These policies are the first step of many to finally getting rid of the outdated federal ban on sports betting that is the Professional and Amateur Sports Protection Act (PASPA). Geoff Freeman, the president and CEO of the American Gaming Association said that "The stars are aligning to finally repeal this failing law. At a time when Washington remains deeply divided, sports betting has the support of Americans of all political stripes," he went on to say "Legal, regulated sports betting will enhance fan engagement and entertainment, empower law enforcement and strengthen the integrity of every game. Everyone wins."
When Can We Expect Legal Sports Betting?
Freeman has announced an actual timeframe as to when we can expect legalized sports betting in the United States. When speaking with Fox News, Freeman told them that he expects the legalization to happen by the end of Donald Trump's first term as president, which would be in the year 2020. Some things that could expedite that process is a win in the New Jersey sports betting case that is currently being appealed in the US Supreme Court. Also, if more states begin passing laws, like New Jersey, that challenge PASPA, then we could see swift change that may even lead to congress amending or repealing PASPA.
State Or Federal Regulations?
The AGA's policy points to them wanting states to control their own sports betting regulations but major sports leagues that support the legalization of sports gambling would prefer that it be done at the federal level. Specifically, the NBA and MLB Commissioners Adam Silver and Rob Manfred have supported the movement for sports gambling for a while now but would prefer it be controlled by the federal government. Either way, the movement is real or change is happening whether you like it or not. It's time for this country to take a step in the right direction in terms of sports gambling and getting rid of PASPA and regulating the activity across the country is the way to do it.
Although this initially sounds like great news, a moment for reflection will reveal a problem. Even though sports betting in Illinois is legal, if it's illegal to facilitate gambling how will anyone ever take advantage of that fact? That does indeed pose a bit of a catch 22. Since hosting any sports betting is illegal, any land based sportsbooks you find in Illinois will be illegally run operations. Aside from putting you at personal risk by association with enterprises that operate outside of the law, these are certainly risky places to trust with your money and will not come to you as verified and trustworthy.
Legal Online Sports Betting in Illinois:
Barring an expensive plane ticket to Las Vegas, Illinois residents may fall into the trap of coming to believe that there may be no safe, legal means of betting on sports. Luckily, it would not be correct to think so. There are many great online sportsbooks suited to the needs of American clients that can provide a great way of fulfilling all your gambling wants. By being based out of the country, these sites work around the state laws that prohibit sports wagering facilitation in Illinois, and through years of service and a great customer satisfaction rating, they can be verified as a safe place to deposit money to bet with.
Bovada Sportsbook - Widest Selection Of Betting Odds Of Any Sportsbook

If you want to start placing your bets online but find your head spinning from all the different options out there to work with, the Bovada online sportsbook is a great place to start for Illinois residents. Through many years of providing quality service to account holders from Illinois, the name Bovada has become synonymous with legitimacy in regards to online gambling. Not only does it come endorsed by media outlets like FOX sports and ESPN, but it boasts a decorated track record of five star customer reviews and unparalleled service. Bovada's devotion to their client base doesn't stop at merely providing a quality outlet for legal, legitimate gambling, however. Bovada goes the extra step to ensure that their customers feel welcomed and valued by greeting new users with an excellent sign-up bonus by matching 50% of your first deposit. Using this offer, new bettors in Illinois can be gifted up to $250 in free play to be used anywhere in Bovada's sportsbook. Now betting with Bovada is looking like a much better value than that flight out to Vegas.
| Legal Illinois Sports Betting Sites | New Player Bonuses + Promos | Bet Now |
| --- | --- | --- |
| Bovada Sportsbook | $250 w/ 50% Match - Low Rollover | Click To Sign Up |
| BetOnline Sportsbook | $1K w/ 50% Match - Good For Life | Click To Sign Up |
| SportsBetting Sportsbook | $1K w/ 50% Match - Lifetime Bonus | Click To Sign Up |
| 5Dimes Sportsbook | Multi Bonus Worth Up To $520 | Click To Sign Up |